Eddie Hall is a strongman legend. He was the first to deadlift over 1,000 pounds and has won the World's Strongest Man competition… but the Beast isn't one to rest on his laurels. Eddie Hall is ready to conquer a new frontier – and you'll never guess what that is. Let's get into this…
If you want a rewarding life – you can't just sit around twiddling your thumbs…
That's not living – that's simply surviving.
If you want to just survive – then don't do a thing. Just keep going through the motions of your life till you follow the same path that millions of others have…
Work, retirement, death.
There's a beauty in the predictability of it all.
However, there are those of us that are simply NOT content with just surviving…
We want to LIVE.
Living isn't going through the motions…
It's creating new goals, adjusting our expectations and conquering new landscapes.
Eddie Hall isn't content with just surviving…
He's ready to conquer NEW worlds.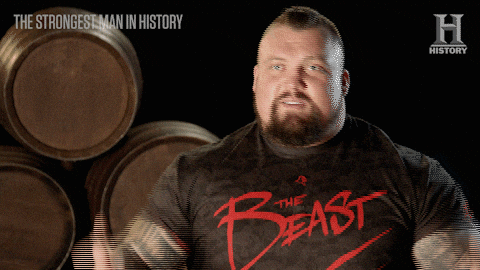 Nobody would have blamed Eddie if he simply retired and disappeared into obscurity after reaching his goal of winning the World's Strongest Man in 2017 – but he didn't…
One Man… Many Talents
A few years later – he and three other prominent strength athletes started a reality show called "Strongest Man in History" – where they traveled around the world – trying the different strength feats from years passed.
But he didn't stop there…
He and fellow WSM champion – Hapfthor Bjornsson – settled a personal beef (over the 2017 WSM title) by stepping into a boxing ring in 2022 and duking it out.
Eddie did lose that bout…
But at least he did try something new and it was fun to watch.
That being said – Eddie's been a little quiet as of late…
Maybe he was nursing his sore ego…
Or maybe he had some injuries…
Either way – besides social media – Eddie has been pretty quiet since then.
That is…
Until recently.
Eddie Hall Is Ready To Conquer A NEW Frontier
So, what could Eddie's next venture be?
He's conquered Strongman…
He's conquered reality TV…
And also tried his hand at combat sports…
So, what's left?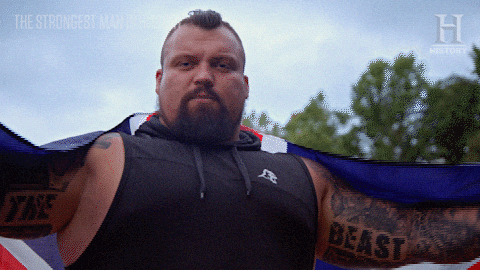 Here's a hint: It's not that far removed from the sport that made him famous.
Does that help?
No?
Alright, I'll just tell you…
As of 2023 – Eddie Hall is a BODYBUILDER.
Yes, you heard that right…
Eddie Hall – one of the strongest men in the history of the world – will be stepping onto the bodybuilding stage sometime in the near future.
Talk about a change in pace…
Going from Stongman to bodybuilding – is like going from driving tanks to racing NASCAR.
It makes you wonder…
Is it worth it?
Is it worth cutting all that mass and weight – to attempt a sport he's never done before?
That's something Eddie's going to have to ask himself that question.
For now, I have another question…
Can Eddie Have A Good Showing? 
When it comes down to it…
You have to ask whether or not Eddie has any chance of looking good on stage.
He will DEFINITELY have muscle thickness and maturity – that's for sure – and I really think it's going to be hard to match his wideness.
Right now, he's sitting at 385 pounds – and says the cut starts in 8 weeks.
You figure to get into good contest condition…
He's going to have to cut at LEAST 70 to 100 pounds to get that lean, shredded look.
That's a LOT.
That being said, he has abs at almost 400 pounds…
Can you imagine what he'd look like after shedding the extra weight he's carrying?
So, yes…
Eddie CAN have a good showing.
Not only will his muscularity be hard to beat…
But the truth is – if Eddie has the ability and drive to become the World's Strongest Man – then odds are he'll have the discipline to follow his diet to a T.
Meaning, he should come in SHREDDED.
That'd be something to see, wouldn't it?
I just hope he'll have the mental fortitude to watch his size disappear…
Size that he's spent YEARS putting on in order to be one of the strongest men in the world.
That's going to sting a little…
But at least he's continuing to lift heavy – but mostly more the lift he's become famous for – the deadlift.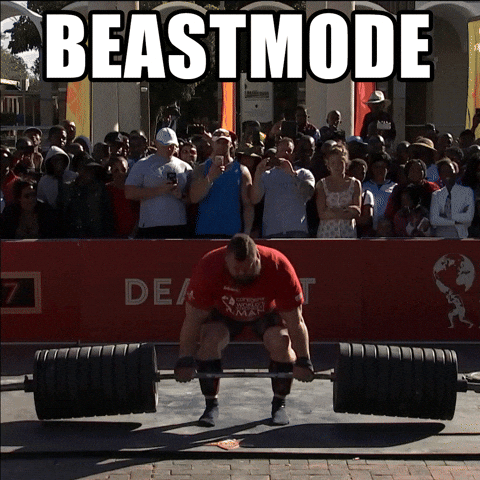 He plans on changing his routine a little – because while lifting heavy will make you big…
It isn't really conducive to that hardness that people expect to see on a bodybuilding stage.
It's NEVER Too Late!
If there's one thing we can take away from this – is the fact that it's never too late to try something new.
Not that Eddie is old…
He's only 35 – but shifting focus from something as specialized as strongman to bodybuilding – is a pretty bold leap.
And that brings us back to our original point…
It's always good to spread your wings and find something new.
If you're not moving forward…
You're either stagnant or moving backwards – and if Eddie is proving anything – it's that it's NOT too late to try something new.
It never is…
The only time it's too late is when you're dead.
So, if you're finding yourself a bit bored these days…
Or you feel like you need to break out of the monotony that your life seems to have become…
Maybe it's time you set a new goal for yourself? 
Set A NEW Goal
You don't have to don a pair of posing trunks like Eddie is…
But you can definitely find something new.
Get double points for making a part of a fitness journey…
Maybe you want to try hiking up Kilimanjaro?
Or maybe you want to walk the Appalachian Trail?
Or…
Maybe you DO want to put on a pair of posing trucks and flex it out for the world to see?
Whatever it is…
You should give it a try.
Take a cue from The Beast and see if you can't conquer a new frontier…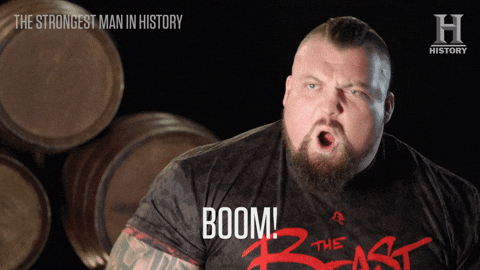 It's the best thing you can do to keep growing. 
"If you go to work on your goals, your goals will go to work on you. If you go to work on your plan, your plan will go to work on you. Whatever good things we build end up building us." – Jim Rohn

Editor's Note: Will Eddie make it to the stage in 2024? Only time will tell… what we do know is that he's going to need some help on this journey. We know he's going to be pushing his limits – which is why we'd recommend that he make sure he's getting his Essential Amino Acids in. These are the building blocks of protein – and help repair muscle fast. If he's going to step up his training – he's going to need help recovering – which is why we'd suggest EAA+HYDRATION for anybody looking to go into a cut. Not only will it help you recover – but tastes delicious too! Grab your own supply of EAA+HYDRATION today…
---